If you've ever managed a site with several hundred or even thousands of blog posts, you know that avoiding keyword cannibalization can feel a bit like navigating a minefield. As an SEO agency, we manage and audit sites on a regular basis - some with thousands of pages. As part of our technical website SEO audit, we check for keyword cannibalization - but we haven't figured out a way of automating it yet, so it's rather time consuming.
If you're a website owner that's concerned with keyword cannibalization and don't know where to start, you may want to consider reaching out to a digital marketing agency for help.
So let's quickly explain what keyword cannibalization is in the first place. Keyword cannibalization occurs when two pages target the same keyword, which is bad because chances are Google will only rank one of those pages - the page it determines is the "better version". Generally, you can identify keyword cannibalization if the primary keyword is found in the meta title and/or URL of two different pages.
Finding Keyword Cannibalization By Sorting Page Titles
One way of finding keyword cannibalization is by getting a list of URLs and page titles from your site and sorting the list of data by page title. What this does in effect is order your data in a way that groups titles that start with the exact same words. This isn't a fool-proof way of checking for keyword cannibalization, however, because two titles can start with different words but still target the same primary keyword.

Finding Keyword Cannibalization by Sorting Meta Titles
The other problem with this approach of finding keyword cannibalization is that it's very time consuming and doesn't take into consideration semantically similar words that could rank for the same parent keyword. For example, the titles "Best Car Insurance" and "Top Automobile Insurance" would not be grouped together in an alphabetical sort and the words "car" and "automobile" are related enough to rank for the same terms.
So what's a better alternative?
Recently, Ahref's launched a new feature called the Links Opportunity tool (part of Ahrefs' Site Audit). The Links Opportunity tool gives you a list of potential internal links based on the content of your pages and the keywords that other pages rank for. So, for example, if you have a page that talks about dog food and you mention "vegan diet" and Ahref's finds another page on your site that ranks for "vegan diet", it'll suggest you create an internal link to that page from your dog food page with the anchor text "vegan diet".
My experience so far is that the recommendations are largely very accurate and useful both for search optimization, but also for helping users find additional relevant information.
So how does this help us find keyword cannibalization?
Ahrefs' Link Opportunities
The interesting thing about the way that Ahrefs' Link Opportunities works is that it doesn't rely on the exact text in the meta title or URL. Instead, it relies on the keyword rankings for that page - which obviously factors in hundreds of ranking factors and signals.
Another thing that's worth noting is that the keywords that the target page ranks for doesn't have to be a high ranking position - the page could rank in position 50 for a keyword, and it will look for that keyword to make suggestions.
Finding Keyword Cannibalization
Here's the step by step process to finding keyword cannibalization with Ahrefs' Links Opportunities:
Step 1 — Start a New Site Crawl
To find keyword cannibalization using the Link Opportunities report, you'll first need to run a new crawl using Ahrefs' Site Audit tool. 

Initiating a New Crawl with Ahrefs' Site Audit
Step 2 — Generate Link Opportunities
You'll need to wait for the audit crawl to complete, which could take a while so you might want to grab a coffee. Once the crawl is complete, you'll need to generate the Link Opportunities tool by clicking on the "Link Opportunities" option on the left hand panel.

Generating Ahrefs' Link Opportunities
Step 3 — Export the Data to Excel
You'll want to export the data to a CSV file to make it easier to work with the data. You don't need to do this step, you can definitely do this inside your browser and even use Ahrefs' additional filtering options to work with the data - I just prefer Excel.

Exporting Ahrefs' Link Opportunities Data to Excel
Step 4 — Clean Up The Data
There are several columns we can discard. The only columns we need to keep are:
Source page
Keyword
Target page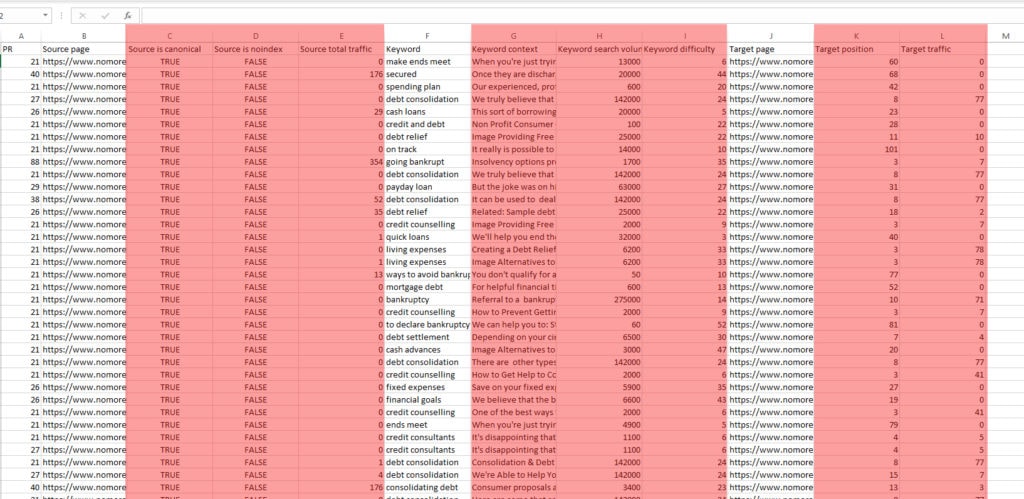 Exporting Ahrefs' Link Opportunities Data to Excel
Step 5 — Analyze the Data
With the data cleaned up, we can start to review the data. What we're looking for is pretty simple:
Is the Keyword found in the URL of the Source page?
If the keyword is found in the source page URL, this is a major indication that there is keyword cannibalization.
Why? Well, the Ahrefs' Link Opportunities tool has identified that another page is ranking for that keyword and is suggesting you build a link to it from the source page.
Well, if the keyword is also found in the source page URL chances are that page is also targeting that keyword. It goes without saying that you would find mentions of that keyword in the content for the source page since it would be the focus keyword.

Keyword Cannibalization Found Using Ahrefs' Link Opportunities Data
Taking it a Step Further
It's possible to take this a step further by automating the process of comparing source page URL with the terms found in the keyword column. It's not as easy, however, as just checking if the terms in the keyword column are found in the URL.
Like I mentioned earlier, there are terms that could be very similar that rank for the same keywords.
Stay Tuned
We're currently working on a way of automating this. This article will be updated once we've got more details for you. In the meantime, let me know what you think in the comments. If you've got any questions about the process I'll answer them in the comments as well.
And remember to share the article if you know someone who might find it useful!
Conclusion
Ahrefs Link Opportunities presents new insights into your website's content profile. Although the process laid out here is a great first step towards determining if you may have keyword cannibalization issues, you should consider cross-referencing with Search Console to see how serious it might be. Databox has an article on using Search Console, including a tip by Kiera Lavington on how to begin to identify cannibalization problems in Search Console.
Not all SEOs agree that keyword cannibalization is a problem worth worrying about. Like all things in SEO, "it depends" tends to be the appropriate response. We've taken over client sites where pages were competing for the same search term - with two pages ping-ponging in rankings. In these sort of scenarios, I'd argue it's better to consolidate those two pages into one page, improve the content, and have one solid piece that ranks and sticks.
Having a process like this that you can use to help diagnose those situations is definitely worth keeping in your toolbelt.